Stand Up Paddleboards for Sale
*** SOLD ***
We have a variety of new and used stand up paddle boards for sale. All of the used inflatable boards were part of a rental fleet and are in good condition. Each inflatable board comes with pump, patch kit and transportation bag. Please call 970-419-0917 with questions or if interested in a purchase. Here are the used, inflatable boards for sale:
1. Two (2) NRS Big Earls, 10'6"x31"x4", $800 each
2. One (1) Boardworks SHUBU, 9'2"x35"x4", $850
3. Two (2) Stride AirLites, 10'10"x31"x6", $750 each
4. One (1) C4 Waterman iSUP, 10'8"x29"x4", $750
5. Lucky Bums Kids Board, 8'x30"x4", $600
We also have two 2014 SupLove boards. These are rigid, high-performance boards in perfect condition.
1. SupLove Escape, 10'6"x29.25"x4.25", $1100
2. SupLove Adventurer, 11'2"x30.5"x5", $1100
Asking Price:
$600.00
Condition:
Good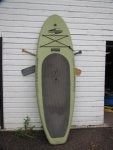 Make, Model:
varies
Year:
varies
Color:
varies
Location: City, State:
Fort Collins, CO