Crazy idea. Hear me out:
how about a stainless steel groover. Locking gasketed lid, available in 3, 5, and 8 gallon sizes. You could have JP functionality at a $100 price point...just add a seat with a lip/groove on the bottom so it doesn't slip off. HandlesslreStainless won't streak or retain odor, no nooks and crannies inside that don't clean. As wide as it is tall so not tippy.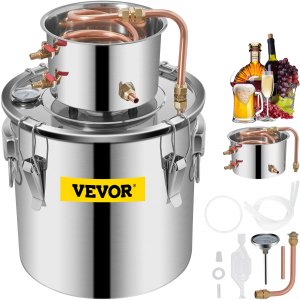 Discover VEVOR Moonshine Still 5 Gal 21L, Distillery Kit with Circulating Pump, Alcohol Still Copper Tube, Whiskey Distilling Kit w/Build-In Thermometer, Whiskey Making Kit for DIY Alcohol, Stainless Steel, 5 Gal Large Capacity and Speedy Cooling at lowest price, 2days delivery, 30days returns.

m.vevor.com
Scrap the condenser on top, plug the thermostat hole, add a pressure relief in the other hole.
and if someone pees in the groover you can boil it off! (Just kidding about that part but had to say it before someone else did!!)