Discussion Starter
•
#1
•
Just spent a week rowing for science, with my Jack's Flyer Cat rigged as a mobile instrument platform.
The staff in front has an echo sounder at the base, for measuring depth, with a data logger in the yellow pouch and a GPS rover at the top. We set up a GPS base station on a hill overlooking the upper Snake River that allowed us to map the channel and features in RTK (real-time kinetic) mode, with great accuracy.
We were towing a Doppler current profiler on its own little trimaran (note the custom lodgepole spar, which I found on the shore of Jackson Lake). We also had a second GPS rover and three handheld controllers to operate the devices and log data, so we could both survey at the same time.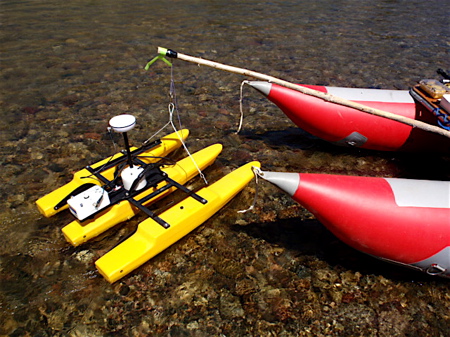 We did continuous channel profiles from Pacific Creek to Moose and two days of insanely detailed mapping of a full meander and two large point bars.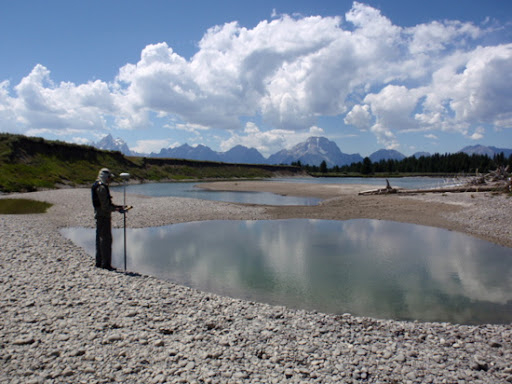 I started with this sort of work in the days of optical levels, chains, and stadia rods. Given that gear, it would have taken a crew of three or four a couple strenuous weeks to log the same amount of survey data. The continuous channel profiles wouldn't have been possible, nor would the cross-sections we logged in places where the river was too deep and the current too strong for wading.
I'd grab roots or stick oars in the bed to hold us while Carl keyed up the equipment. Then I'd row like a bloody Viking to keep a straight course to the other bank, which was
mostly
possible.
There were some wild thunderstorms. This is how it looked just before we got big thunder, crazy lightning, and wind-driven rain.
There's so much boat traffic on the upper Snake that large mammals avoid the river in daylight (except for bison). But at night and in the early hours, the critters are active. Here are the tracks of a big beaver (I think), an elk calf, and a wolf, with a size 13 Chaco-print for scale.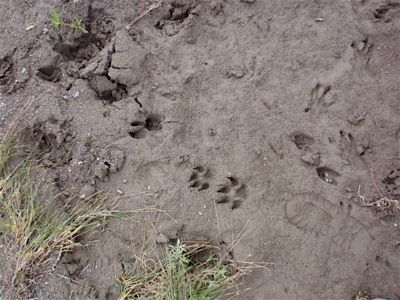 Given the setup and troubleshooting time for the GIS stuff, we'd leave the research station at 8:30, set up, do the shuttle, get on the river about 11 am, and pull off around 8 pm. (That's the longest time I've rowed a boat without a beer in ten or fifteen years.)
But I was amazed how well the high-tech gear was suited to mapping and surveying with a boat as both the instrument platform and the means of transport.
Some scientists are also skilled boaters, but most are not. So let this be a nudge to think of ways you can use your boating skills to help out scientists on channel mapping, wildlife surveys, pollution tracking, etc.