Discussion Starter
·
#1
·
A couple of other paddlers and myself just returned from a 7/3 trip down the Conejos River in the San Juan Mountains. It was beautiful, but rainy...
We put in about 1-2 miles below Platoro Reservoir, this added around 5-6 miles to the trip described in WWSR. The best action was in this top stretch, a little of it was roadside, but much of the whitewater was contained in small, wooded mini-gorges that were hard to scout. Here are a couple of pics from the roadside action towards the top of the run: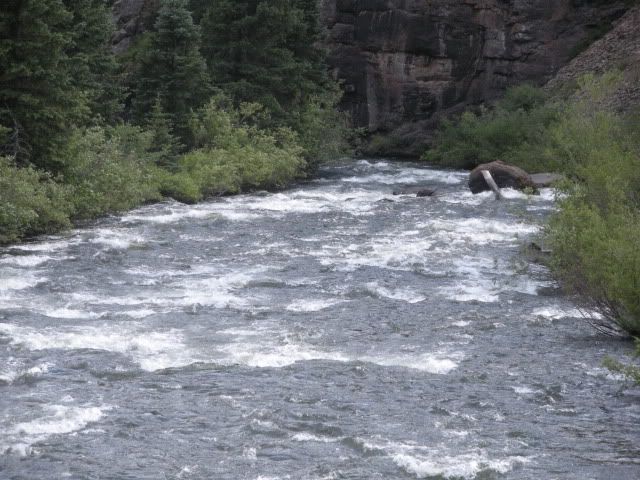 In the first "mini-gorge" we encoutered two landslides, each of which created long III+/IV- boulder garden rapids...the action was fun and continous all the way down to Lake Fork Campground (about 4 miles from put-in, and where we camped).
From Lake Fork the river was relatively calm with less gradient (class II, with 1 river-wide pourover) down to the recommended access point of Trail Creek (another 2 miles or so).
Then we dropped into the Pinnacle Gorge. The scenery was absolutely amazing! There were sheer walls of volcanic rock coming down to the river in many places offering little escape if something were to go wrong, but the whitewater was manageable (mostly class II, but there were a couple of steeper, solid III's).
Below the rapids we did encouter 1 mandatory portage around a river-wide strainer...it was a messy pile of trees on a blind corner, but with a good eddy above on the left. There was a decent amount of wood on the run, a few limbo moves were necessary, but this was the only portage.
I found it to be a fun, worthwhile river trip in a wilderness setting with top-notch scenery and solid class III whitewater.
It should be noted though that the take-out at the South Fork trailhead requires a 1/2 mile, 300 foot hike out the parking lot...and NONE of the guide books or AW say anything about that...
The flow was 325 cfs when we kayaked.