Discussion Starter
•
#1
•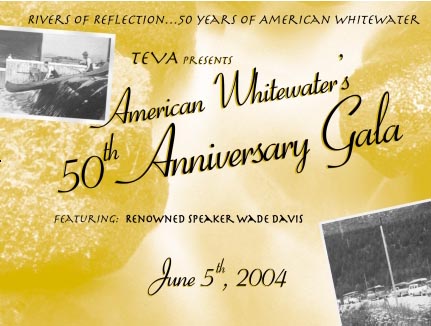 Join American Whitewater in Vail, Colorado as we celebrate fifty years of working on behalf of the whitewater community.
Teva will host American Whitewater's 50th Anniversary Gala at the Teva Mountain Games on June 5th. The event will celebrate the past 50 years of American whitewater paddling while raising funds for AW to continue protecting and restoring the nation's whitewater rivers. To ensure that the soul of whitewater remains intact at the Gala, formal wear will be recommended and sandals will be required. We hope that the entire boating community joins us in Vail, Colorado at the Lodge at Vail for this once in a lifetime event.
Joining American Whitewater as a guest speaker will be Wade Davis, a professional speaker for nearly twenty years has lectured at over 70 universities, numerous corporate groups and professional associations. Wade Davis is an Explorer-in-Residence at the National Geographic Society. Named by the Geographic as one of the "Explorers for the Millennium", Wade Davis is an anthropologist and plant explorer who received his Ph.D. in ethnobotany from Harvard University. He has worked as a guide, park ranger, and forestry engineer.
Whitewater celebrities from the past fifty years of paddling are planning on attending. Never before has so much whitewater history been gathered in one place at one time. AW is thrilled to act as a conduit for the celebration of the people, innovations, and river conservation successes that have defined our sport.
The theme for the Gala Dinner will be "Rivers of Reflection…50 years of American Whitewater". Boaters from the past 50 years are hailing this as "Whitewaters first ever family reunion". The focus of the evening will be on the history of whitewater paddling in America and will feature a museum of paddling artifacts, photographs, and memorabilia.
Tickets for the Gala dinner are $100 per person and proceeds will help ensure that AW is around for another 50 years. Corporate tables of eight seats can be purchased for $800. Tickets can be reserved by emailing Ben VanCamp or calling the AW Outreach Office at (828) 252-0728.
Gala Event Website
http://www.americanwhitewater.org/events/info/GalaHome.phtml
Online Gala Invitations
http://www.americanwhitewater.org/events/info/GalaInvite.phtml
Ben VanCamp
Outreach Coordinator
American Whitewater
(828) 252-0278
[email protected]