I was in a similar place a year ago.
My question was Eurovan, Vanagon, or Sprinter?
I ended up going with the Vanagon for a few reasons here they are.
#1. There is no Sprinter or Eurovan with 4x4 / Syncro which is lame.
#2. Sprinters are very tipsie and do not handle well at all. Mountain roads are terrible with them.
#3. The Eurovan's drivetrain sits lower than both the Sprinter and Vanagon
#4. The Eurovan has a very limited engine compartment and repairs are costly and difficult.
Next Pricing. A nice Euro Van will land you right around 15k - 25k used
A nice sprinter is 20k low and up to 35k still being used. A nice vanagon can be found for under 10k easily. What about power and performance of a Vanagon vs. the others.
No question the vanagon's were made with underpower and poor engine performance. The 2.1L throw rods like mad and the 1.9l have gaskets that make you wanna cry. So check this option out.
I bought an 86' Syncro for 3k. Bought Subaru SVX for 2k. Rebuilt the entire engine for 2k and then did the conversion for around 3k. That made the total car price in around 10k but that is a 4x4 vanagon with a brandnew 3.3l engine that will have a 200k easy lifetime.
I have since done alot more to make it more of a off road machine but still I have yet to find a cheaper way to get your hands on a quality 4x4 van that has good power, handling and reliability for under 20k.
Anyone priced out the Van's with the Quigley Susps. OUCH. SportsMobile or not thats gonna set ya back a good 10k just for the added 4x4.
Here are some pics if you really care. As you can see Vanagon's can load up with boats and gear still!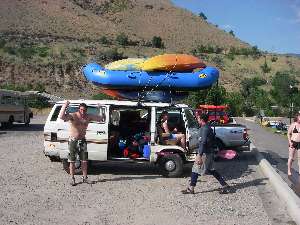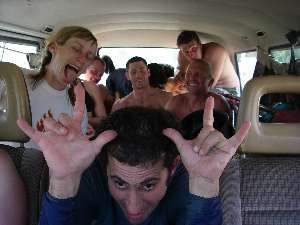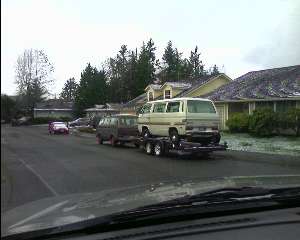 James