Hmm. Good questions Yeti. I had to break out some old notes for that section (clarkdale - camp v). Here's the scoop:
Clarkdale to Camp Verde
(otherwise know as "Dead Horse to Camp V" because of the easier access) is relatively flat (class II-III) with downed trees, shallow, riparian growth, a few diversion dams and private land. So in my opinion...not a good run or worth the time. And would make for a very long day or short two days.
The Run To Do (on the Verde) would be:
Verde Daily (Beasley Flat - Gap Creek) *7 miles*
This run is II-IV. It has some spice for the class III paddler and is scenic. There are two - four rapids that are III+ and have great play waves. For the more experienced boaters on the trip, they will find some fun lines and decent play.
Here is Bret (my bro) back in the day, trying to wreck Pre-Falls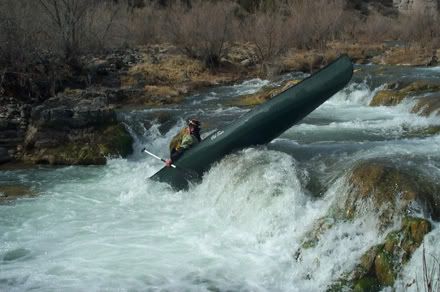 So i think you will like that section the most. It does require a high clearance vehicle (especially after it has rained).

But i would recommend trying to get into Oak Creek. It's mellow for the most part and your paddling partners will be able to pick and choose what they want to run. Look for flows 200 and higher.

Have fun!

__________________